2020 AGLOA Outstanding Senior: Cy Salvant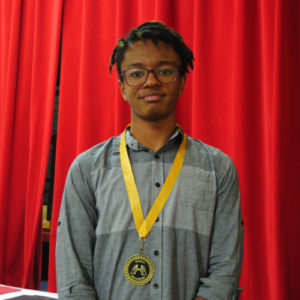 Although the Academic Games Leagues of America (AGLOA) did not hold a national tournament this season, the culminating work of its graduating 12th graders who went above and beyond the duties of an average Academic Games competitor did not go unrecognized.
Congratulations to our own Cy Salvant of the NOLA Homeschoolers for being selected as one of the AGLOA Outstanding Seniors for 2020. The Outstanding Senior Award is a recognition given by AGLOA each year to students who have been selected by the AGLOA Tournament Council members from a pool of candidates. Outstanding Senior Awards are given to those graduating gamers who not only have enviable competitive records but who also exhibit the highest qualities of character and sportsmanship.
For nine years, Cy has been competing in Academic Games in the New Orleans Academic Games League. He attended his first national tournament in 2014 and has qualified for each one since that year. Of course, he has attended all of those national tournaments and would have gone this year. Cy has been on several successful conglomerate teams at the national tournament and is a stellar gamer in our local league. This season, he finished in at least the Top 6 individually in every game, including a 1st Place finish in Equations and 3rd Place overall in the Sweepstakes competition.
Cy has been the coach of the Academic Games team at Edward Hynes Charter School for the past four years and has been a coach and mentor to his home school team throughout that time and more. He volunteers his time to teach students in the Elementary and Middle Divisions, but also assists as a judge and monitor at the tournaments for those divisions.
We thank Cy for his dedication to promoting the spirit of Academic Games in the New Orleans Academic Games League and beyond.
To view a list of all AGLOA Outstanding Seniors from Louisiana, click here.