This year's Presidents tournament surprised students and parents with some D.C. flair as U.S. Senator David Vitter took the stage as the special guest reader.
Welcomed by all divisions with a round of applause, Senator Vitter read first for the high school competitors, and then visited the Elementary/Middle competition.
Over 250 students from 26 area schools participated in the tournament at Tulane University.
For the second year in a row, Audubon Charter School took top team honors in both the Elementary and Middle divisions. Eli Zitler, Nina Beriss, Olivia Keefe, Isha Mbaye and Alexandra Zengel made up the Elementary team. Josephine Lavoie, Mitzi Zitler, Autumn Richards, Corinna Zengel and Jonathan Cole comprised the Middle team. Eli Zitler also placed first as an individual in the Elementary Division; while Miles McGuire from Lusher Charter School easily clinched first place as an individual in the Middle Division with his near-perfect score.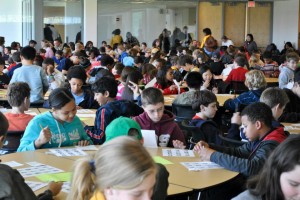 In Junior Division Jesuit High School's team, comprised of Anton Derbes, Chalon Fogarty, Matthew Monju, Matthew Sentilles and Logan Yokum, placed first. Joseph Arrigo from Brother Martin High School took first place individually.
In Senior Division, the Brother Martin team of Michael Ballmann, Kevin Branley, Christopher Maheu, Brian Pellerin and Brandon Yrle dominated by nearly 100 points to place first. Also, Leslie LaCoste from Mt. Carmel Academy managed to edge out the competition to take first place individually.
Thanks to everyone who participated or volunteered to make the tournament such a success.